Majority owner Steiermärkische Sparkasse
Steiermärkische Bank und Sparkassen AG
A-8011 Graz, Sparkassenplatz 4
Telephone: +43 (0)5 0100 - 36000
Fax: + 43 (0)6 0100 9 - 36000
Internet: www.steiermaerkische.at
E-Mail: info@steiermaerkische.at
Ownership:
73% Steiermärkische Verwaltungssparkasse
25% Erste Bank
2% Employees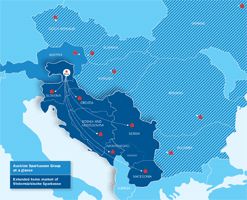 Our owner cares about the future of your success.
Its business has a tradition of over 190 years. It is a savings bank where clients and employees have a sense of security and confidence. Its competitive advantage is a combination of proximity to the client and regional approach on one side and the expertise and the size of the company on the other side.
Guidelines:
Reliability!
Steiermärkische Sparkasse with the balance sheet sum of EUR 14.4 billion is the largest Styrian bank and the largest credit institution in the south of Austria. In the province of Styria and through its subsidiary banks in Southeastern Europe, 6.200 employees daily serve 2.4 million clients through a network of 490 branches and regional counseling centers.
Courage as opportunity!
Activities in shaping the future of Southeast Europe and visions without borders are the basis of success in international business.
Our owner considers southeastern Europe as an upgrade of its domestic business. Its center for foreign operations for years serves as a bridge between Styrian and companies in Southeast Europe. Clients who stay and do business in Southeast Europe have its constant support and help.
Individual approach!
The service created based on the clients' needs.
Taking care of personal needs, counseling and providing assistance to clients in the units and regional centers of our owner have resulted in many years of satisfaction and confidence.
Confidence!
We are successful together.
Time is the basis for customer satisfaction and quality of service. Clients who wish to perform transactions independently have at their disposal a large number of such services. The digitization of the banking business on the other hand allows our employees to spend more time for detailed personal conversation and finding individual solutions for complex client requirements. This is the basis of relationship that builds mutual confidence.
Safety with guarantee!
Our owner performs insurance of deposits through "Haftungsverbund".
Its size makes it an important factor in decision-making across the Austrian group of savings banks. It consists of 46 savings banks, led by Erste Bank. Our owner is a member of the "Sparkassen Haftungsverbund" (joint liability agreement), which means: more security for clients.